The battery is probably the most important part of the phone. The battery allows you to use the phone for a period of time. The Newest iPhone 14 Models also facing a huge battery draining issue, but the biggest question is: how to fix iPhone battery health problems?

Some iPhone battery draining faster than others, sometimes within a week or two. The most common suggestion iPhone users are getting is to purchase a new iPhone or replace iPhone battery. However, we do not suggest you do so. Instead, we recommend using these techniques.
Why iPhone battery draining overnight?
Honestly, it's not the problem with new iPhone 13, but the same has been reported for iPhone 12, iPhone 11, iPhone SE and iPhone 14 after updating to iOS 17. The main culprit behind the battery draining problem is iOS 17 as these problems of iPhone battery draining faster were discovered after the update only, so these methods apply to all iPhone's.
If you still believe that the problem is related to the faulty battery hardware and your phone need battery replacements, you can follow this method.
Power Off your iPhone at Night and Power it On in the Morning, and Notice if there is any % of battery drainage. If not, then Congratulation, your new iPhone is in good health, not Faulty. If the answer is No, call Apple Support and have them run diagnostics on it.
Now when you have successfully passed Level 1, let's move ahead to the methods of Fixing iPhone battery draining overnight.
What do You need?
Why is my iPhone battery draining so fast? Although iOS makes it incredibly simple to keep track of battery usage with the Battery Health section in Setting, but I advise you to download the CoconutBattery app to check your iPhone battery, a reliable app for your iPhone battery health especially when the iPhone battery drains in minutes.
You should not rely entirely on Apple's default battery health app. It would be best to consider using other apps like the CoconutBattery app and then compare its data with the Apple default one to reach any conclusion. Additionally, Apple customer support does consider CoconutBattery app data. Moreover, CoconutBattery is nearly 20 years old, even older than the first iPhone.
Note: It is not available for the iOS app anymore, but available for macOS you can download it from below and can check your iOS device battery health with the Mac app when you connect it via lightning cable or via Wi-Fi (by enabling an option in iTunes or the Finder)
Tips on how to Fix iPhone Battery Health problems
We have some tips and methods that can Fix iPhone battery health and help you save your battery and keep your iPhone battery health at 100%.
1. Disable Exposure Notifications
Apple and Google have collaborated on offering a secure and private coronavirus contact tracing implementation on iOS and Android, called Exposure Notifications. It automatically downloads configuration information for the phone's current region continuously which leads to drain your battery.
How to disable it:
1. Open Setting on your iPhone
2. Swipe down and tap Exposure Notifications just above Battery
3. Although Contact tracing (Exposure Notifications are off by default)
4. You can toggle off "Availability Alerts" if you don't want to know when contact tracing is available in your area
2. Disable Background App Refresh
While you sleep at night, certain iPhone apps constantly use your Wi-Fi or cellular data connection to download new content. Hence, result in the iPhone overnight battery draining.
It's time to put a full stop to them and save a significant amount of battery life and your data plan by limiting the number of apps that are allowed to use this feature.
How to disable it:
1. Go to Settings -> General -> Background App Refresh.
2. Now, Turn off every app on the list which you are not using or require to download data at your back
3. Remove AirTag from iPhone
If you have an AirTag or other devices like AirPods or Apple Watch attached to your iPhone via the "Find My" app consider removing it from there as MacRumors forum users have reported that this method increases their iPhone battery life drastically and ends overnight battery draining.
How to remove it:
1. Go to the built-in 'Find My' app on your iPhone or iPad.
2. Tap Items at the bottom of the screen, then tap the item you want to remove.
3. Bring the item (ex: AirTag) near your iPhone.
4. Tap, Remove-Item, then follow the onscreen instructions.
4. Disable Siri
I understand since you're wondering, What difference does it make? It may appear silly, but believe me when I say that I would not have included it in the list if it wasn't important. According to Reddit users, disabling Siri on their iPhones resulted in better battery life. It wasn't a lot, but it was ample.
How to disable it:
1. Go to Settings -> Siri & Search.
2. Now Disable Listen for "Hey Siri" and Press Side Button for Siri
3. When the pop up appears confirm Turn Off Siri
5. Enable Low Power Mode
Since its introduction in iOS 9, Low Power Mode has been a blessing for iPhone users. It actually limits background activities automatically, such as apps data activity and downloads to preserve battery life. I will advise you to keep your iPhone always in Low Power Mode to save extra battery juice.
How to enable it
1. Go to Settings -> Battery.
2. Then, turn on the toggle for Low Power Mode.
Note: Do note that iOS 17 automatically disables Low Power Mode when the battery gets sufficiently charged above 80%. You can fully charge your iPhone to 100% there is no problem in it.
6. Turn off Location Services
Location Services is the most power-hungry feature of iOS 17 that constantly drains your iPhone battery juice. I won't suggest turning off Location Services entirely; after all, that is what makes the iPhone such an amazing device.
Instead, turn off any applications you no longer use or continuously draining your power. You'll be surprised to discover secret apps that you've never heard of or seen before.
How to disable it:
1. Go to Settings -> Privacy -> Location Services.
2. Now turn off location services altogether or select the preferred setting for each app selectively, whichever you find convenient.
7. Turn On Limit Frame Rate
It's no secret that the iPhone 13 Pro has the worst battery draining overnight issue. It's also no surprise that the iPhone 13 Pro and 13 Pro Max are the first smartphones to have ProMotion, enabling adaptive refresh rates up to 120Hz, a coincidence? This feature alone uses more battery juice to make your display appear smoother.
The best advice is to turn on Limit Frame Rate as it sets the maximum frame rate on your iPhone to 60Hz. You won't even notice the difference.
How to enable it:
1. Go to Settings and tap Accessibility -> Motion.
2. Now Turn on the switch next to Limit Frame Rate.
8. Reset Your iPhone
This is the last thing you should do if all the above measure fails to deliver. Your iPhone may have a deeply rooted software issue that can only be resolved by resting your iPhone. It is also one of the Effective Solutions to fix iPhone Stuck on Apple Logo.
It's safe to reset your iPhone because it keeps all the media and data safe. After Resetting, your iPhone re-download your apps, reconfigure Wi-Fi and other settings, and transfer your photos and music back to your iPhone.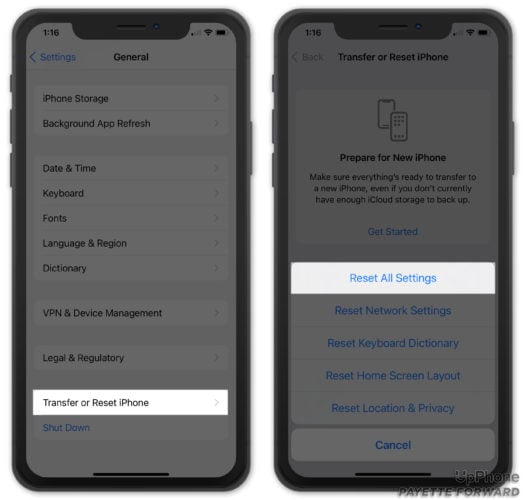 How to reset it
1. Go to General -> Transfer or Reset iPhone
2. Now Select -> Reset -> Reset All Settings
3. Enter your passcode, then confirm your decision.
9. Other Methods
These methods are small but can make a huge difference in saving your iPhone battery in day-to-day life.
1. Turn Off The Widgets You Don't Use
2. Power Off Your Phone Once A Week
3. Turn on Auto-Lock (1 Min)
4. Set to LTE and Turn Off 5G
5. Turn On Dark Mode
6. Turn Off Auto-App Updates and Downloads
BONUS
If you don't want to waste your time and you can self-diagnose the problem but need proper and easy guidance, then this book is an efficient and useful resource that allows you to solve a problem quickly without resorting to time-consuming and expensive solutions.
In iSolution, you learn how to prevent iPhone problems, fix many common and complicated iPhone problems yourself, and improve your overall iPhone experience. Stop wasting time searching for iPhone problems and solutions on Google.
Here you will find all of the solutions to your iPhone problems:
Fixing 5G Network & Wi-Fi Connection
iPhone Water Damage's Repair
Fix iPhone Battery draining issue
Solving iOS Related Problems (iOS 13 and later)
How to Improve iPhone Camera Photography
How to Find Lost iPhone
How to clean your iPhone and much more
You can get the Kindle Edition or Paperback and Hardcover of iSolution from Amazon here.
Wrap Up
These are tried and proven battery fix methods that Reddit and Apple forum users have used in the past. These techniques have yielded consistent and meaningful results. Also, the myth about quitting background apps boost your iPhone battery life is untrue.
The next iOS update will probably resolve the overnight battery draining issue and fix other battery health problems. As mostly iPhone battery issues are software-related. The new iOS update can temporarily impact battery life for a short while, as ZDnet points out.
The iPhone and iOS 17 users should wait at least a week before reaching any sort of conclusion regarding battery life. It happens every year when Apple releases a new iOS update and when Apple releases a new update that addresses all of the flaws and bugs, and soon customer complaints begin to fade away. 
I hope this method helped you solve the iPhone battery drainage Overnight issue. If you have any other method or like to share your thoughts, leave a comment below — I'd love to hear from you.
FAQs
iPhone battery health 85% is good or bad
An iPhone battery health of 85% is generally considered to be decent, but it is not considered ideal. In fact, some experts consider a battery health of 75% to be the threshold for when a battery is considered to be "fair."
How to keep iPhone battery health at 100%
It is not possible to keep an iPhone battery health at 100% indefinitely, as all batteries naturally degrade over time with use. However, avoid exposing your iPhone to extreme temperatures, Use the original charger and MFI certified cables these steps you can take to help maximize your battery health and extend its lifespan.