Microsoft updated the documentation about the TPM requirements for Windows 11
Microsoft has finally unveiled the Window 11 and has grabbed all the attention with its future rich visual, design, and performance upgrade. Window 11 comes with multiple features like a centered taskbar like Mac OS, much-awaited Android app support, etc. However, Window 11 is getting dislikes from the users due to its TPM 2.0 requirement.
Windows 11 requires a TPM 2.0 security processor to install or upgrade to the latest version of Windows 11. Due to the absence of TPM 2.0 in major PCs, many of them won't be able to install the latest Windows 11.
Another disappointment is that AMD processors (Athlon, EPYC, and Ryzen) and Intel processors below 8th-gen are not compatible with Window 11.
Still, the biggest problem is with the TPM 2.0 chip requirement in order to run the operating system. TPM 2.0 was released in 2014 but made compulsory for PC only in 2019. It suggests that PCs made before that year may be incompatible with Windows 11.
Is Installing Windows 11 without TPM 2.0 is possible?
Microsoft has recently updated the guidance around the TPM requirements for Windows 11″ on their documentation page.
Microsoft has updated TPM 2.0 as a recommendation rather than a requirement. According to the Microsoft original documentation, as long as a PC had at least TPM 1.2 – which was initially released in 2011 and come equipped with many laptops- it would meet the minimum security requirements for Windows 11.
Yes, Installing Window 11 without TPM 2.0 is possible. Microsoft had said that devices with TPM 1.2 would "receive a notification that upgrade is not advised" but wouldn't be prohibited from installing Windows 11.
"It's great to see Microsoft taking more serious steps in making sure their OS is as secure as possible. Any step you can take to harden your security is a positive one, including making TPM 2.0 a requirement," said Miguel Zamarripa, CIO of Colorado Springs, Colo.-based Simpleworks IT.
Windows 11 Systems to Ship Without TPM Requirement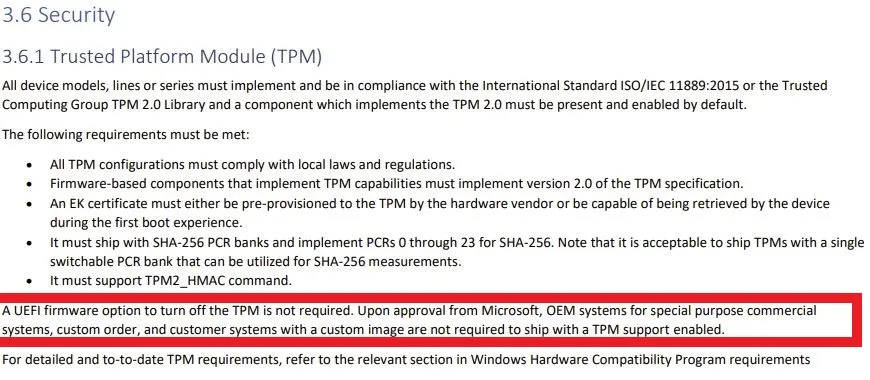 As we can see in the image above, upon approval, Microsoft is preparing to allow some systems to ship without TPM 2.0 enabled, meaning that it will have either a particular ISO for those installs or a method to bypass the TPM restriction during installation.
However, normal users like us probably won't have access to the installation ISOs or workaround mainly used for those builds. These special builds are likely tailored for use in countries that don't use Western encryption technologies, like China, Russia and India, and will be mainly seen in the affordable range of PCs and Laptops.
What is TPM?
TPM (Trust Platform Module) is an international standard for a secure cryptoprocessor. This is possible due to a physical hardware chip used to store encrypted information on the device, also ensuring a secured boot environment.
This allows for features like BitLocker Drive Encryption, Windows Hello PINs and biometrics, and PC hardware tamper protection.
How to check your TPM version
1 Press the Windows key + R. It will open up the Run dialogue box.
2 Now type in 'tpm.msc' in the Run dialogue box
3 It will show you if the feature is enabled and will show you other details. If Not, then you'll see no TPM present or enabled.
The first builds of Windows 11 will begin rolling out to Windows Insider testers this week, and Windows 11 will be generally available for all this holiday as a free update to Windows 10 PCs.